Featuring Cardio & Brain Helper
Cardio-Helper
Ingredient Facts
Mukta Vati
Hypertension Benefits
For a thousand years of Ayurvedic use, Mukta Vati has been considered to be best remedy known to Ayurvedic wellness practitioners for hypertension, disturbed sleep and loss of mental function.
The time tested botanicals that comprise Mukta Vati are well known to traditional Ayurvedic practitioners to be without harmful side effects.. They have worked for at least three thousand years of documented Ayurvedic nutritional medicine. Mukta Vati acts extremely fast and it is not uncommon to see results within 2-3 days.
In addition to improving mental clarity, speed of learning, recall, long and short term memory, Mukta Vati also helps the brain in a tonic manner to support happy mood and avoid melancholy and depression.
Mukta Vati is recommended to balance the body and nourish the body for situations of high blood pressure like sleeplessness, anxiety, restless legs syndrome, anxiety etc.
Indian Gooseberry
Cardiovascular Benefits
Studies show that participants who consumed 500-1000 mg of Indian Gooseberry daily for three months:
Increased HDL cholesterol by 14%
Decreased total serum cholesterol by 17%.
LDL cholesterol was lowered by 21%.
Triglycerides were lowered 24%.
In another study involving 51 subjects, (male and female, between the ages of 26 and 72 years) with total cholesterol levels between 190 and 310 mg/dL and CRP levels between 1.5 and 5 mg/L, supplementation with a purified, standardized, dried extract of amla (emblica officinalis, commonly known as Indian gooseberry), was found to significantly reduce risk factors for cardiovascular disease arising from inflammation and dyslipidemia.
One group of subjects received 500 mg of the extract at bedtime along with a glass of water, and the other group received 1000 mg of the extract at bedtime, along with a glass of water, for a period of 6 months.
Significant reductions in serum total cholesterol, LDL cholesterol, VLDL cholesterol, and triglycerides, and significant increases in HDL cholesterol were found. Furthermore, CRP (C-reactive protein) levels dropped by 40%, and blood glucose metabolism improved (reductions in blood glucose levels) as well.
These results suggest that a dried extract of Indian gooseberry, such as that used in this study, may have a significant role to play in reducing the risk of cardiovascular diseases.
Black Tea Extract
Cardiovascular Benefits
Extracts from black tea (rather than the whole black tea left) may reduce total cholesterol levels by nine per cent and LDL cholesterol levels by 12 per cent, according to a new study from Japan.
Consumption of the black tea extract (BTE) was also associated with beneficial changes in blood levels of triglycerides and body weight, according to results published in the journal Nutrition Reviews.
High cholesterol levels, hypercholesterolaemia, have a long association with many diseases, particularly cardiovascular disease (CVD), which is the number one killer on both sides of the Atlantic.
"The present study is the first to report that BTE (one gram per day) significantly lowered total cholesterol and LDL cholesterol levels in human subjects with borderline hypercholesterolemia in a randomized double-blind placebo-controlled study," wrote authors Hiroyuki Fujita and Tomohide Yamagami from the R&D Department of Nippon Supplement in Osaka.
The study involved 47 people with borderline hypercholesterolaemia assigned to receive the BTE or placebo for three months.
The health benefits of tea have been linked to the Polyphenol content of the tea. Green tea contains between 30 and 40 per cent of water-extractable polyphenols, while black tea (green tea that has been oxidized by fermentation) contains between 3 and 10 per cent.
The four primary polyphenols found in fresh tea leaves are epigallocatechin gallate (EGCG), epigallocatechin, epicatechin gallate, and epicatechin.
Study details
The subjects, aged from 40 to 70 years, were randomly assigned to receive the black tea extract (one gram per day) or placebo for three months. The subjects consumed the pills before a meal.
After three months, a 9 per cent reduction in total cholesterol was observed in the tea extract group, from 6.14 to 5.62 moles per liter at the start and end of the study, respectively. Furthermore, LDL cholesterol levels fell by 12 per cent, from 4.32 to 3.81 moles per liter.
Similar reductions in triglyceride levels were observed, but no significant changes in any blood lipid levels were recorded in the placebo group.
"Interestingly, the reduced levels of total cholesterol, LDL cholesterol, and TG levels remained significant even one month after termination of black tea extract intake," wrote Fujita and Yamagami.
The authors also note no "undesirable changes in other biochemical parameters", such as fat-soluble vitamins. Moreover, none of the subjects reported any adverse effects from consumption of the black tea extracts.
Mechanism
Fujita and Yamagami postulated that the tea extract may function by inhibiting the reabsorption of bile acids. By binding to the bile acids the extracts increase the excretion of cholesterol - the liver compensates by producing more bile from cholesterol, thereby promoting cholesterol lowering.
1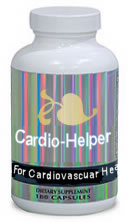 Cardio Helper (aka Brain Helper)

The ingredients in Cardio Helper have been used for thousands of years by Aryuvedic practitioners to help their patients enjoy greater mental clarity, better memory, enhanced thinking power and greater cardiac output. On top of that, it was a mainstay for improving mood and overcoming depression and anxiety. With this product, you may also, likely live longer (see below).

If You Are Experiencing Loss of Cognitive Function — Should You Be Worried?

Yes, because although people vary widely in "innate brain power", a decline in one's relative cognitive function is a good predictor of mortality. In other words, if you find it more difficult to think clearly and remember things as you get older, it's not a joking matter. It means that you should take emergency and sustained action to reverse the direction of your health.

One of the major causes of loss of cognitive function is a decline in HDL (good cholesterol).

Monitoring your cholesterol levels (not just overall levels, but the separate HDL and LDL levels) is an important way to understand your health. If your HDL cholesterol levels begin to go down, you should take immediate action to correct this SIGNIFICANT AND FOREBODING SITUATION. Look at these findings below:

Cardio Helper works to increase HDL levels and increase mental clarity

The nutrition in Cardio Helper does the following:
Helps your body to

produce more of the high density lipoproteins (HDL)

in your body (the good cholesterol) which helps prevents Alzheimer's. (Most people don't understand that the HDL lipoproteins are essential for brain function.)
Helps the neurons and synapses (in the brain and nervous system, i.e. the electrical signaling in your nervous system that controls the heart beat, as well as your brain) to communicate optimally: by relaxing and firing off signals efficiently.
Helps to eliminate the root causes of increased blood pressure, rapid heart beat and increased production of free radicals that accelerate damage to endothelial and brain tissues.
Cardio & Brain Helper (Cardio Health) Ordering Form

Item #

Description

Retail Price

Your Price

Qty



301d
Cardio Helper - Special Price - Bottle of 120 Capsules

$45.00

$29.00

Quantity discounts available: 3 to 5 units: 5%, 6 to 8 units: 10%, 9 plus units: 15%.
Money Back Guarantee of Satisfaction on All Products.
We invite you to study more about Cardio-Helper and then try it. You will be very impressed. This is the best brain enhancing product on the market.
The major ingredient in our product, Cardio Helper, is the Ayurvedic complex called Mukta Vati. Also, Cardio-Helper includes: Indian Gooseberry, Black Tea extract (please note that this extract has none of the harmful properties of black tea, itself), Bilberry Extract and Hawthorne Berry Extract, all of which help boost your good cholesterol and brain and nervous system functioning.
Each one of the above all natural ingredients is powerful in its ability to assist the body toward improved brain function. But, working together, they are synergistically awesome in helping the cardiovascular system to regenerate and function optimally.
More About The Ingredients in Cardio-Helper
Note that we are not offering our product as a treatment for any disease because only licensed by the FDA drugs and procedures are permitted by law to be offered as a treatment for disease, but our product is offered as a means of nourishing the body and brain in order to help the body to balance itself and thereby assist the body to have the best chance of being healthy.

Mukta Vati is an Ayurvedic preparation (i.e. it has been used in traditional Indian medicine for several thousand years) for hypertension and brain weakness.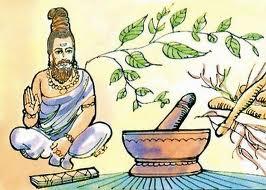 Ayurvedic refers to the traditional Indian practice of herbal medicine that has been in use for over 3,000 years in India. Ayurveda is a system of medicine that stresses balance in order to stay free of disease. Like, all Ayurvedic "medicines" or "treatments", Mukta Vati is based on the belief that God put the remedies for man's diseases into herbs and plants. These plant and herb remedies for man's illnesses help provide the missing balance needed so that the body can heal itself. (Note that in Western Medicine, this product is considered folklore... and we remind all readers to not treat themselves, but to work your professional health care provider.)
This particular combination of herbs and plants that is known as Mukta Vati is comprised of the following herbs and natural ingredients:
Brahmi (Centella Asiatica) known in America as Gotu Kola:

Shankhapushpi (Evolvulus Alsinoides L) known in America as bindweed :

It is tradtionally reported to be wonderful for treating sleep disorders - resulting from stress and anxiety.
It is quoted in Charaka to be the

single greatest herb for enhancing all three aspects of mind power -- learning (Dhi), memory (Driti), and recall (Smriti)

.
It is called the greatest Medhya Rasayana (that which

enhances the mind

).
It helps the quality of sleep by improving mind-body coordination.
Shankapushpi is also very beneficial for the nervous system, enhancing the quality of nerve tissue, and also enhancing the quality of bone marrow (where both blood cells and stem cells are produced).


Arjuna:

In Ayurveda, Arjuna is described as an important remedy for high blood pressure and is known as a cardiotonic herb.
Modern research shows that it increases the good cholesterol (HDL) and lowers the bad cholesterol (LDL).
It is useful to

increase blood flow

and to balance or normalize disturbed cardiac rhythm or reduced blood flow.
Research has demonstrated benefits from arjuna for coronary artery disease, heart failure, and possibly for high cholesterol levels. It has also been found to be antibacterial and antimutagenic (protection against cancer).


Gojihva (Onosma bracteatum) known in America as sedge:

In Ayurveda, the dried leaves of Gojihva are believed to be

balancing

, acting as a brain tonic, alterative, demulcent, diuretic, cooling and a stimulant of the mind.


Guduchi (Tinospora Cordifolia) known in America as heartleaf moonseed:

Guduchi is both a brain tonic and powerful immuno-modulator.
It improves comprehension, memory and recollection.
It is regarded as a

blood purifier

and liver protector.
It is useful to counteract general debility, improve appetite and as fight against infection and inflammation.


Ashwagandha (Withania Somnifera) :

Jyotishmati (Celastrus Paniculatus) known in America as staffvine:

PushkarMool (Inula Racemosus):

Vacha (Acorus Calamus) known in America as sweet flag:

Ustukhudusa known in America as French lavender:

One of the most balancing of all botanicals, its leaves and/or oil refreshes, cools, purifies, heals and revives the psyche.


Praval known in America as red coral:

Pearl Powder (Mukta Pishti) :

Pearl is relied upon in traditional Ayurvedic medicine for hypertension treatment.
Powdered Pearl is used as a Shen tonic to stabilize the emotions, allay fright, ease frustration and anger, brighten the eyes and help regenerate tissue.


In summary, Mukta Vati is a natural way of helping your body to lower bad cholesterol, increase good cholesterol, increase blood flow, combat stress, combat hypertension that leads to high blood pressure and promote mental relaxation.

Ingredient # 2 - Indian Gooseberry
Indian gooseberry is perhaps the single best way to improve HDL levels in the body. It supplies many types of nutrients that the body uses to make HDL (good cholesterol). This is good not only for the brain, but also for the heart.
Supplementation with just one gram a day Indian gooseberry powder (this is the amount of Indian gooseberry in a daily amount of Cardio Helper) can increase one's level of HDL by 15% or more in just a few months of use). Studies such that such increases of good cholesterol (HDL) are virtually always accompanied by decreased bad cholesterol (LDL) and decreased overall cholesterol (21% decrease in LDL and 17% decrease in overall cholesterol). This isn't just a good thing for heart health, but it is specifically good for brain health.
Indian gooseberry contains a diverse blend of phenolic compounds that have been shown to safely help maintain healthy levels of key blood lipids (LDL, HDL and triglycerides) as well as inflammation markers like C-reactive protein.
Studies also show that Indian gooseberry helps induce rapid and significant improvement in endothelial function.
Indian gooseberry has the highest vitamin C content of any naturally occurring substance on earth.
It shares a unique characteristic with strawberries - both contain ellagic acid which is a unique enzyme that reduces and neutralizes damaging effects of the carcinogen PAH found in cigarette and secondhand smoke.
It's also a useful treatment for ulcers and hyperacidity.

Ingredient # 3 - Black Tea Extract
Black Tea Extract (much better than Black Tea itself because it avoids the harmful elements in black tea) is now understood to provide specific cardiovascular benefits. Because there are hamrful elements in black tea, studies on benefits of drinking black tea are mixed. This is not the case in regard to studies into the benefits of the black tea extract, however. These studies universally show that black tea extract is fantastic for reducing markers of inflammation and increasing HDL. In fact, a United States patent has been awarded for the use of black tea for the prevention of disease. A two to six fold reduction in markers for inflammation was observed during a double-blind, randomized study using black tea extract. This is significant since most all chronic, human disease, including cardiovascular disease and brain deterioration is the result of inflammation.
Ingredient # 4 - Bilberry and Hawthorne Berry Extract
Hawthorne berries increase the body's ability to utilize oxygen and calcium. They improve This herb helps regulate both high and low blood pressure, in addition to slowly breaking down cholesterol and fat deposits in the body. The bioflavonoids help to strengthen the contractive force of the heart and gently dilate and relax the coronary blood vessels, improving overall circulation throughout the body and the brain. For this reason, Hawthorne Berries have been used to lower high blood pressure and high cholesterol, as well as increase low blood pressure.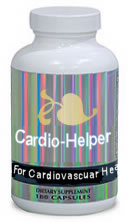 Hawthorne Berries also can help to reduce water retention by expelling excess salt from the body. Additionally, this botanical has also been known to reduce nervous tension, alleviate insomnia and aid digestion.
Four separate studies were conducted on the berry's role in improving heart function after a patient suffered from heart failure. What the studies found was that the herb did significantly improve many of their symptoms and allowed them to being exercising which was important for their overall recovery. One study that included almost 1,000 patients discovered that after taking the Hawthorne berry for two years, heart failure patients saw a great decrease in their symptoms and even had to take less prescription medication.
Cardio & Brain Helper (Cardio Health) Ordering Form

Item #

Description

Retail Price

Your Price

Qty



301d
Cardio Helper - Special Price - Bottle of 120 Capsules

$45.00

$29.00

Quantity discounts available: 3 to 5 units: 5%, 6 to 8 units: 10%, 9 plus units: 15%.
Money Back Guarantee of Satisfaction on All Products.
How To Take Cardio-Helper
Take two capsules in the morning and two in the afternoon or evening. May be taken with or without food.