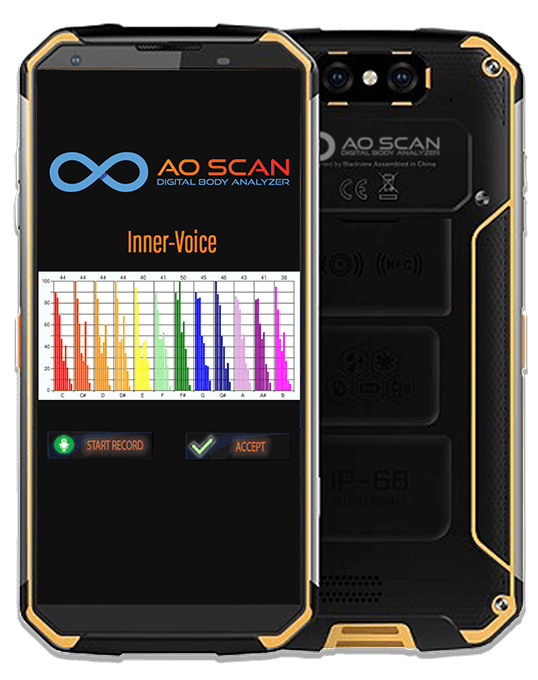 AO Scan Mobile — Learn About Your Body In a Unique Way!
Have you ever wished that you could know how your body, tissues and cells are really doing?
It's so expensive and time consuming to pay for exhaustive tests to give you those answers... even $100,000 dollars of conventional medical testing of your body couldn't reveal as much information as the AO Scan device can tell you, at a really affordable price.
Over the past 20 years, more than 120,000 Vibrational Frequencies for healthy cells and organs have been isolated, identified and cataloged into the AO Scan database. These frequencies are the same for everyone, regardless of gender, race or color. Since we know what optimum frequencies (vibration) of each cell and organ is, the AO Scan assists in "sleuthing out" the causes of an individual's health status by measuring the frequencies.
When tissue frequencies are not measured to be in their normal range, but instead show as disrupted, we theorize this to be an indication that the tissue isn't functioning properly. Whether by injury, diet, stress or emotion, the frequency disruption is believed to correlate to an impaired biological function leading to potential fatigue, depression, illness, disease or ultimately death.
Since frequencies are not accepted by mainstream medicine and science, this is all experimental and educational at present. We hope that some day, like on Star Trek, with Dr. McCoy, scanning of a person's frequencies will be common place medical practice.
Our research shows amazing accuracy. The bottom line is that AO Scan currently is able to utilize frequency scanning to help one understand and improve one's health. It provides several detailed reports and optimization opportunities. Although this research is still research and experimental in its nature, it is nevertheless a powerful idea and possibly life-altering in its potential to help one improve health in a purposeful way.
The AO Scan provides the best look at frequencies within a person's body of any radionics device available today. It enables frequency scans remotely or via "bone-conducting" headsets, voice, facial image and identifying information. It does frequency imprinting to any target.
It enables frequency optimization via more than 1,100 programs and 120,000 frequencies for such optimization.
It enables making homeopathic or energetic preparations in just two minutes.
The AO Scan used to be available only to health professionals.
The AO Scan device and software used to cost approximately $40,000 plus monthly maintenance fees.
Today, however, anyone can have the AO Scan Mobile in their life for between $149 and $199 per month (depending on subscription level chosen) and approximate $600 upfront device cost and licensing.