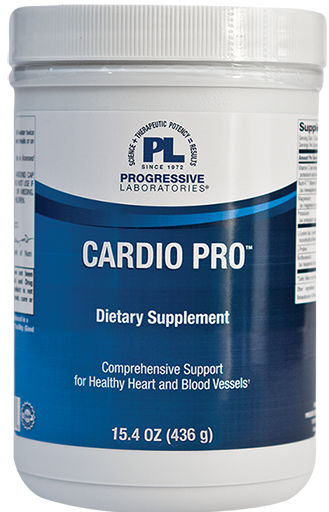 Cardio Pro™ Supplies Cardiovascular System Blood Vessels with Nutrients They Can Use to Improve Their Integrity and Function
What Cardio Pro™ Is?
It is a synergistic combination of nutrients that play a key role in helping the human heart to repair itself. It is not a drug nor in any way is it drug-like. Instead, it provides significant amounts of several natural ingredients that the body can use to improve its function and health in all tissues, and, especially so with cardiovascular tissues.
Why You Should Consume Cardio Pro™:
You should consume Cardio Pro™ to help ensure that your cardiovascular system is able to maintain itself in an optimum state. Its ingredients enable increased tissue repair rates and replacement tissue formation..
Unlike products that have many listed ingredients on their labels, but not enough of those ingredients to help one's body accomplish significant repairs, Cardio Pro has signifcant amounts of its key ingredients. It was designed to enable the body to be able to accomplish significant tissue remodeling improvements everywhere, and especially so in cardiovascular health, in as short a time as possible.
Cardio Pro™ includes:
L-Lysine (as L-lysine monohydrochloride) - is critical in the collagen formation of cardiovascular linings. Studies show that supplementing with significant amounts of Lysine (at different times than Arginine) and taking proline and mineral ascorbates at the same time as Lysine, gives a huge boost to collagen formation in cardiovascular wall tissues. In other words, Cardio Pro gives the body the Lysine it needs and the ample of other co-factor nutrients so that it can get to the task of restoring the health of its cardiovascular and other tissues.
L-Proline - along with L-lysine and Vitamin C, L-proline enables collagen molecules to form. This is crucial to the strengthening of artery walls and for helping to avoid toxicities and deficiencies that can result in atherosclerosis. The amount of L-Proline included in Cardio Pro has been shown to be significant in studies regarding cardiac remodeling.
Nutri-K™ Vitamin K2 (as menaquinone-7) - Vitamin K is essential for cardiovascular health because it helps the body place minerals in bones rather than in soft tissue or plaque adhering to vascular walls. We use the strongest and longest lasting form of Vitamin K.
Vitamin C Ascorbates — Vitamibn C is essential to collagen formation. Without it, the body waits for Vitamin C to become available before it can make collagen. On top of that, although causation hasn't yet been proven, numerous studies show that Vitamin C consumption correlates to reducing plaque deposits into arterial linings. While others wait for scientific proofs that may be many decades away, others are taking action now to find out what Vitamin C asorbates can do for their own personal cardiovascular health. A person is as old as their arteries are damaged. And, unfortunately, for most modern people, their cardiovascular blockage from plaque build-up is roughly equal to their age, 50 years — 50 percent blocked, 70 years — 70 percent blocked, and so forth. There are numerous studies that are starting to show the value of Vitamin C in cardiovascular health, especially the ascorbate and flavonoid types of Vitamin C.

Magnesium Ascorbate - And, not only is the ascorbate (Vitamin C) good at helping one's body in maintaining a healthy cardiovascular system, so also, is the magnesium. This ingredient scores on both accounts because magnesium correlates well to cardiovascular health and cardiovascular tissue integrity.
Potassium Ascorbate - similar benefits of magnesium ascorbate, except that it is potassium instead of magnesium bonded to Vitamin C. Most people are deficient in both magnesium and potassium. So, by using potassium ascorbate and magnesium ascorbate, one will have truly significant amounts of Vitamin C and good amounts of these important minerals. Potassium is especially important for energy which is created in the cells via the sodium-potassium energy pump.
Cardio Pro also contains bioflavanoids (as hesperidin from citrus peels) - The flavonoids present in citrus fruits have been shown to be highly beneficial to the cardiovascular system by supplying additional nutrient tools that the body uses in controlling free radicals.
Cardio Pro Powder Ordering Form
Comparative Retail Price: $50.00
Our Price: $47.50
Quantity discounts at 3, 6 or 9 units.
Cardio Pro Powder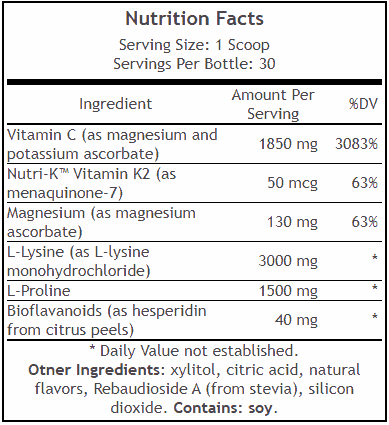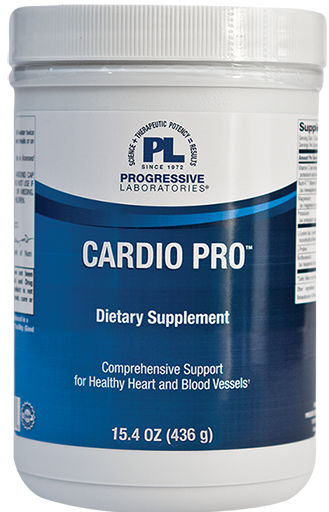 How to Use
Mix one scoop of Cardio Pro in 8-10 ounces of water to make a serving.
Take a serving once or twice daily.
It is best to take between meals or on an empty stomach to get maximum absorption.
Videos and Audios about Cardio Pro Ingredients
We disclaim any claims (if there are any) made in these videos or audios. They are for information, education, enlightenment and entertainment only.