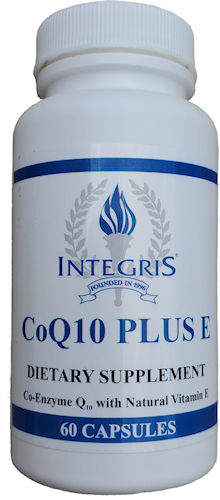 CoQ10 facilitates the transformation of fats and sugars into energy inside the mitochondria.
Having the Best Life Boils Down to Having Enough Energy to Do The Things You Want To Do!
Your energy levels will match your CoQ10 levels!
Energy is made in our cellular mitochondria as fuel is burned in the presence of oxygen!
If we compared our cellular mitochondria to a car engine, CoQ10 would be the fuel injector (or carburetor and spark blugs for older cars) that increases the efficiency of fuel burning.
Since nothing is more basic to life than burning of fuel to make energy it follows that when CoQ10 levels diminish, basic cell metabolic functions are impaired, and the ability to live a productive life must necessarily diminish.
It is interesting that by the time someone reaches 80 years of age, 80% of the CoQ10 molecules that were in a person's cells at age 25 are gone. By age 80, the pancreas which is responsible for digestive enzymes has lost 83% of its youthful CoQ10 levels. With less enzymes, no wonder we cannot digest our foods well as we used to. So, for people with poor digestion, CoQ10 supplementation is a must!
If you're over the age of 30, one of your first tactics for improving energy and preserving future health and longevity is supplementing with CoQ10.
CoQ10 Decreases in Human Tissues as We Age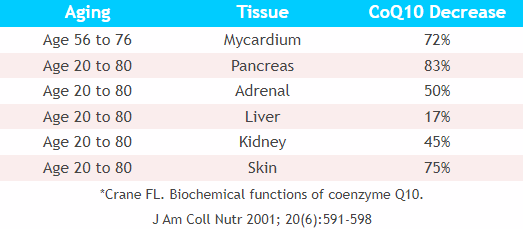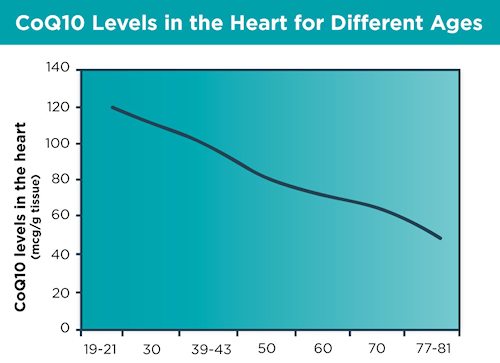 Looking at the above charts/graphs... No wonder we have less energy when we are older .
No wonder that there are hundreds of CoQ10 products on the market... since CoQ10 supplementation really has an impact on the energy inside one's cells.
No wonder that every cell functions better when we supplement with CoQ10.
No wonder our skin is dry and wrinkly.
No wonder our digestive enzymes (made in pancreas) are inadequate.
No wonder that most first heart attacks occur between the age of 56 and 76 (the average is 65.5 years of age).
However What is Eaten With CoQ10 Does Matter
CoQ10 absorbs better when it is present with one or more of the following: Vitamin E, Bioperine, or oils. Having one or more of these present in the stomach at the same helps increase the amount of CoQ10 that goes into the blood and to the cells, as shown in the following graphs. That's why CoQ10 Plus E includes them in their formulation.
This graph shows the amount of CoQ10 going to the blood after a single oral intake of 90 mg CoQ10 and 5 mg of Bioperine.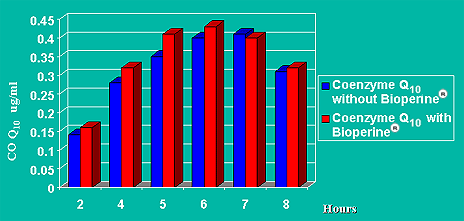 And the following graph shows the absolute change in serum CoQ10 after 14 days of supplementation with CoQ10 (90 mg daily) and Bioperine (5mg daily).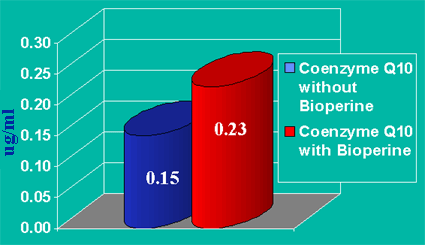 Finally, this graph shows the serum levels after a 21 day trial in terms of sustained CoQ10 increase.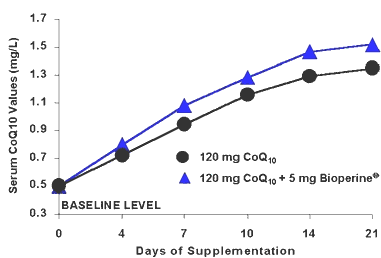 Summary of CoQ10 Benefits:
Helps reduce mitochondrial damage and enhances energy output, which is why CoQ10 supplementation is well known to support cardiovascular function.
Scientists are now discovering that CoQ10 contributes to a longer life, the result of the supplement's augmentation of mitochondrial function in brain structure and function, lung defense mechanisms, and disorders related to poor glycemic control and the metabolic syndrome.
Total body health depends heavily on maintaining mitochondrial integrity.
CoQ10 represents an efficient way to optimize mitochondrial output by maintaining co-enzyme Q10 blood levels in youthful ranges.
What is an Optimal Daily Amount of CoQ10 Plus E To Take — By Age:
Age 30: 100 mg — one capsule
Age 40: 200 mg — two capsules, in divided doses, am and pm
Age 50: 300 mg — three capsules, in divided doses, am and pm
Age 60: 400 mg — four capsules, in divided doses, am and pm
Age 70: 500 mg — five capsules, in divided doses, am and pm
Age 80: 600 mg — six capsules, in divided doses, am and pm
Age 90: 700 mg — seven capsules, in divided doses, am and pm
Age 100: 800 mg — eight capsules, in divided doses, am and pm
CoQ10 Plus E Ordering Form
Comparative Retail Price: $49.95 per bottle.
Our Price: $34.95 per 60 capsule count bottle
CoQ10 Plus E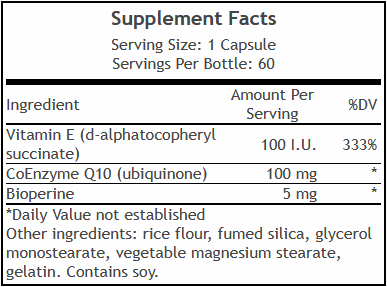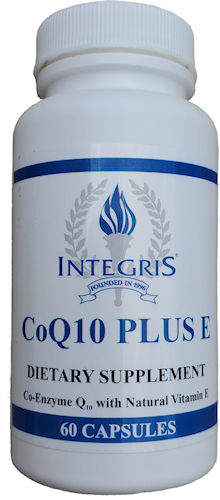 How to Use
Take one to eight capsules daily, depending on age, quality of health and tolerance, and always take with food (to improve absorption).
Videos about CoQ10
We disclaim any claims (if there are any) made in these videos. They are for information, education, enlightenment and entertainment only.