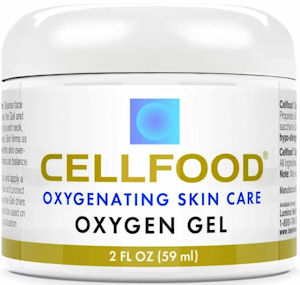 Cellfood® Oxygen Gel is a Great Way to

Increase Skin Health

by 1 -

Oxygenating the Skin

, 2 -

Antioxidizing the Skin

, and 3 -

Feeding Trace Minerals Directly into the Skin!
What Our Cellfood® Oxygen Gel Is:
Cellfood Oxygen Gel is a topical gel for delivering Cellfood® (oxygen, hydrogen, and mineral nutrients) to the skin. The Cellfood® ingredient is combined with Aloe Vera and Lavender blossoms. Because CellFood™ Oxgyen Gel absorbs into the skin, it transfers its oxygen, hydrogen, minerals, and healing botanical extracts powerfully and deeply into the multiple layers of skin.
Why You Should Consume Our Cellfood® Oxygen Gel:
Skin receives more oxidative damage than any other body tissue due to its exposure to sunlight and airborne toxins. Cellfood® has a proven ability to reduce this oxidative damage. Its minerals and oxygen are readily absorbed. So by putting CellFood® in a nourishing skin gel, one health giving redox (reduction and oxidation) reactions both internally and externally. CellFood® Oxygen Gel is long-lasting and effective at making the skin healthier. So, the general reason to consume Cellfood® Oxygen Gel is to be more youthful in appearance and to generally have healthier skin via the daily routine of applying Oxygen Gel to your skin.
• promotes a youthful complexion
• restores skin's natural balance
• softens and smooths dry skin
• revitalizes skin's moisture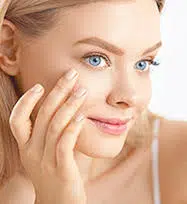 Virtually everyone loves the benefits of having younger, tighter, healthier skin.
As with every tissue in the body, health is the end result of continuous detoxification and nourishment.
CellFood® Oxygen Gel provides the most important detoxification and nutrification elements — minerals, oxygen and hydrogen.
Until you experience
Oxygenating Skin Care

, you won't know what it's like for your skin to feel wonderfully alive!

Ask anyone who's recently used this unique formula and they'll likely say theri skin began feeling smoother and younger from the very first application.
Here is a list of what you need to know about Cell Food ® Oxygen Gel:
The CellFood® part of Oxygen Gel is the most important ingredient. It enables redox (reduction and oxygenation) reactions which are the foundation of what gives life — so that skin cells can detoxify, maintain, and heal.
CellFood® does this by splitting water molecules into atoms of oxygen and hydrogen. Both the atoms of two atoms hydrogen and the single atom of oxygen that occur in each split reduce free radicals. The oxygen atom reduces singlet oxygen free radicals in the skin into oxygen molecules. This improves skin oxygenation. The two hydrogen atoms reduce singlet oxygen free radicals into water molecules that hydrate the skin.
CellFood® also provides highly assimilable minerals directly into the skin to help repair skin molecules.
Our CellFood® Oxygen Gel product also furnishes to the skin Aloe Vera and Lavender Blossoms extracts.
Aloe Vera gel from the Aloe Vera plant has significant skin and wound healing properties. In fact, it has been used for thousands of years to heal skin.

The first way that Aloe Vera heals the skin is by increasing collagen production in the skin.
Aloe Vera also changes the composition of collagen, increasing collagen cross-linking — promoting smoother skin and healing of any wounds in the skin. Scientific studies have shown that the Aloe Vera can increase the flexibility and reduce the fragility of skin.

The extract of Lavender blossoms is useful to improve skin health because it unclogs pores and reduces inflammation that is normally seen as blotchy or red skin.
Cellfood® Oxygen Gel Ordering Form
Comparative Retail Price: $40.00
Our Price: $27.95
Cellfood® Oxygen Gel
CellFood® Oxygen Gel contains Purified Water, Aloe Vera, CellFood® Proprietary Blend, Lavender Blossom Extract, Glycerine (Kosher), Polysacharide Gum, and Dehydroacetic Acid.Deuterium Sulfate, Ionic Trace Mineral Blend, Trace Enzyme Blend, Trace Amino Acid Blend. CellFood® Oxygen Gel is hypo-allergenic, gluten-free, non-oil, no fragrance added.
CellFood® Oxygen Gel is paraben-free. Never tested on animals. All ingredients are highest quality. Formula is completely non-toxic. Note: may vary in texture/consistencey, or may settle during shipping.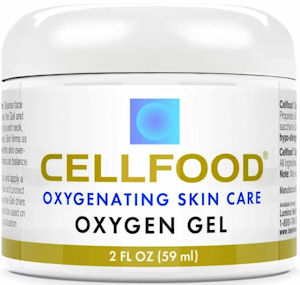 How to Use
At bedtime: Cleanse face well. Lightly glide fingers over the Gel and apply a small amount over face and neck, concentrating under eye area. Skin forms as the Gel dries. Nutrients feed the skin overnight, while restoring ideal moisture balance.
In the morning: Wash face, and apply a light film of Gel. Nutrients feed and protect the skin all day. Skin firms as the Gel dries. Cellfood® Oxygen gel can also be used on non-facial areas requiring revitalization.
Videos and Audios about Cellfood® Oxygen Gel
We disclaim any claims (if there are any) made in these videos or audios. They are for information, education, enlightenment and entertainment only.