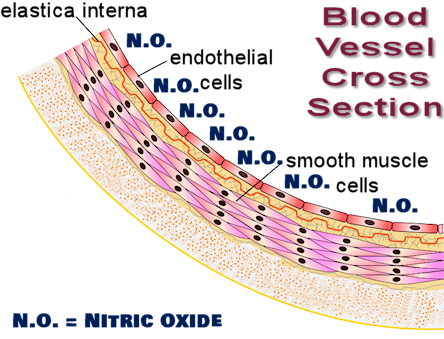 A key to heart health is having a supple and undamaged Elastica Interna which is an arterial muscle layer that runs the whole length of an artery and that tightens and relaxes with each beating of the heart — assisting blood to flow through the artery. Endothelial cells are the layer above that protect that muscle. Nitric oxide protects endothelial cells from free radicals and signals the underlying elastic interna to relax with each heartbeat to allow blood to flow readily through the body.
Nitric Oxide's importance to health and "how the body makes it" were discovered by three Americans who were awarded a Nobel Prize in 1998 for their independent research into cardiovascular function. Nitric Oxide is made in the human body from the amino acid L-Arginine. It is made in endothelial cells (the interior, one-cell thick lining of arteries, veins and capillaries). Nitric Oxide is a signaling molecule that, because it is a gas, can move through membranes and signal the muscles to relax. Among other things, it signals the elastic interna and smooth muscles of arteries to relax with each beating of the heart. Additionally, it helps blood vessel linings (endothelial cells) to self-repair — and to remain smooth and healthy. Thus, Nitric Oxide production is absolutely essential for a healthy cardiovascular system.
Nitric Oxide is produced optimally if there is plenty of Arginine is in the bloodstream and if endothelial cells (the one cell thick lining of arteries, veins and capillaries) are in in good working order.
Unfortunately, many people don't eat correctly in order to allow free Arginine to exist in their blood stream and also have damaged endothelial cells. That is a recipe for cardiovascular problems. If endothelial cells are in a damaged condition (which is the case for most people over the age of 50) then the endothelial cells won't be able to produce Nitric Oxide in appreciable amounts until they are repaired.