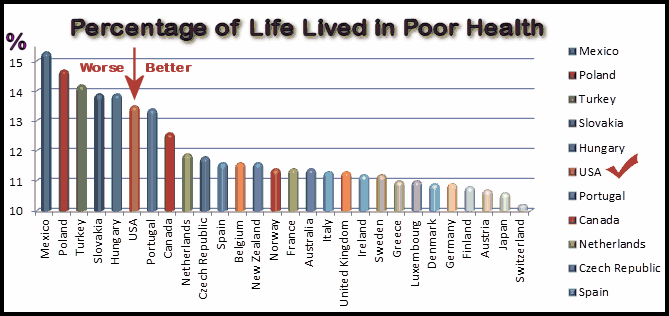 People in the United States of America must be doing something very wrong in regard to human health compared to other countries. Only Mexico, Poland, Turkey, Slovenia and Hungary have worse health statistics than does the United States of America in terms the number of years the people in that country live in extremely poor health before dying. Click here or on the graph to below to see more details regarding this statistic.
Americans are also among the worst in terms of longevity. These statistics simply beg the question, Why? — especially when Americans spend more on medical care and vitamins than the rest of the nations of the earth combined?
Answer:

The reason for Americans poor health statistics is that our diet is far worse than their diets

.
The culprit is what we could call the Standard American Diet (which could be characterized as nutrient deficient, toxic, "fast" or "processed" food). Very little of our diet is raw, nutrient-dense, fresh fruits and vegetables. That coupled with a prescription based medical care system (instead of nutrition) is what creates the above terrible health consequences.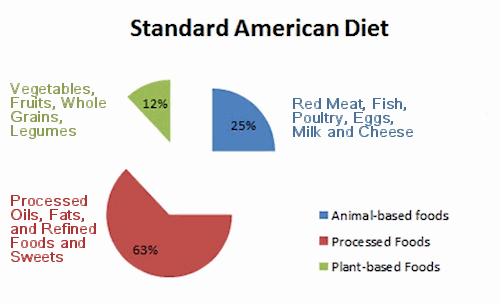 The SAD diet is characterized by very little raw food, very little minerals (they are mostly stripped out in processing), far too many denatured , adulterated, toxic fats, (virtually all modern vegetable oils and far too many calories from processed foods and carbs.
Allopathic Medical Care, which is drug, surgery and radiation based medicine (i.e. symptom-control-medicine) is wonderful in terms of acute symptoms or trauma care, or the fixing of congenital defects and for delivery babies when complications occur.

Allopathy, certainly, however, is not the way to maintain health.

And, the popular modern fad of Vitamin pill popping does not fix the basic problem that Americans have of not eating healthy, natural food. All vitamins really do is to give a false sense of security.
So, consider: where is the road you are on taking you in terms of your health?

Are you on poor nutrition and high toxicity road?

Or are you on a better nutrition and toxicity reducing road?
We each get to choose our road in life:

The end of the road of high toxicity and little nutrition is poor health, joint stiffness, lack of energy and poor quality of life.


The end of of the high nutrition, low toxicity road is a body that

stays young, supple, full of energy and free from pain

into advanced age.
The road we recommend is:
To eat a wide variety of undamaged,

nutrient dense food

.
To maintain internal cleanliness of cells, blood stream and gastrointestinal tract.
Please check out our many nutritional and detoxifying products and sign up for our health inspiration newsletter. Remember, you are not exempt from the laws of health. No one is. You either do the daily habits of health, and get the reward of increased vitality and health, or you can not do it and get the end of the road of poor quality of life and early death
Hippocrates had it right a long time ago — when he said, "Let food be your medicine".

Anne Wigmore had it right when she said — "The food you eat can either be the safest and most powerful medicine or the slowest form of poison."

Medical Doctors Are Great... but Nutritionists Are Even More Important!
We love medical doctors and the great advancements in medical care that have taken place in the last century. They are great for saving us from complications of childbirth, from infections and putting us back together after accidents. But, in terms of overall health, nutritionists are more to be sought after than doctors.
Thomas Edison described this big picture a hundred years ago when he said: "The doctor of the future will give no medicine but will interest his patients in the care of the human frame, in proper diet, and in the cause and prevention of disease."
We Teach

the Five Habits of Health
Healthy-Living wellness coaches invite everyone to put into practice the five habits of health.
Human nature is such that people put off taking action unless there is an urgent and immediate threat to our well-being. For instance, we react instantly to the sound of a rattlesnake but we universally fail to act to avoid that which will certainly end our life decades too soon such continuing to eat denatured oils, excessive amounts of sugar and very little raw food.