Silica is One of the Most Overlooked Super-Star Nutrients That You Can Give Your Body!

In our youth, our tissues absorb and maintain high levels of silica — enabling our bodies to remain flexible, resilient (able to heal quickly), and energetic — but as we age and because our food contains less and less silica, our silica levels steadily decline.
When it comes to staying young, silica is superb for hydrating tissues and ensuring they're tight, healthy and firm. Our Essential Silica Formula gives you all the benefits of silica combined with the unique delivery power of Cellfood.
Here is a list of what you need to know about Silica: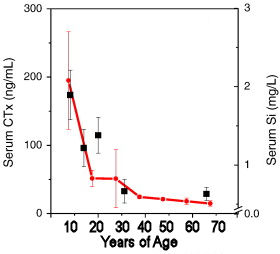 Silicon (the third most abundant mineral in the body after iron and zinc), along with Vitamin C, sulfur, boron and the key amino acids, enables collagen formation for keeping youthful skin, bones, joints, muscles, and connective tissue. Virtually nothing is more important for maintaining health and vitality than collagen formation.
Silica is silicon dioxide and is GRAS (Generally recognized as safe), meaning it's safe to eat.
Silicon levels decrease with aging (see graph) because our digestive powers decrease with age. Silicon levels drop drastically before one is 30 years old (about the time that enzyme digestive power drops) and never recover, but continues to be poorly absorbed.
Studies show that silica counteracts the effects of aluminum on the body and therefore may be important in supporting neurological health.
Silica, along with other trace minerals, is needed to strengthen bones and increase collagen production. Without Silica integrity of these tissues is not possible.
Cellfood Essential Silica Formula contains easy-to-absorb silica plus many other trace minerals required for healthy bones, joints, skin, hair, muscles and connective tissue. It can be added to any beverage.
Silica is an essential beauty mineral that helps support teeth, hair, and nails. It is also well known for its anti-aging, anti-wrinkle properties due to its ability to help form collagen and repair damaged or loose skin.
Supplementation with Silica can help form strong teeth and gums.
Finally, our Liquid Silica contains a good amount of antioxidizing and nourishing CellFood™.
Essential Silica Formula Ordering Form
Comparative Retail Price: $40.00
Our Price: $31.45
Essential Silica Formula
Supplement Facts

Serving Size: 15 drops
Servings per container: 80
Ingredient
Per Serving
Amount
% of Daily
Value
Silica
25 mg
*
Cellfood™ Proprietary Formula
125 mg
*
Deuteriam Sulfate, Ionic Trace Mineral Blend, Trace Enzyme Blend, Trace Amino Acid Blend
*Daily Value not established.

How to Use
Take 15 drops in 1 to 8 ounces of water, juice or any other liquid, twice daily. May be used after strenuous activity to help with muscle repair. No refrigeration needed.
Videos and Audios about Essential Silica Formula
We disclaim any claims (if there are any) made in these videos or audios. They are for information, education, enlightenment and entertainment only.