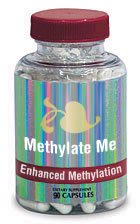 Would you like to put teams of repair technicians to work in your body to repair your DNA, to lower your homocysteine levels (preventing a cause of heart disease and Alzheimers), to improve your muscle energy and to improve your mood and propensity for deep sleep at night?
If so, then Methylate Me is the way to do it.
Methylate Me has been proven in double blind studies to be effective in lowering homocysteine blood levels through the process of methylation.
Methylation is a chemical process of repairing damaged organic molecules by adding back missing methyl (CH3) bonds. This is a normal process that takes place all the time when we have enough methyl groups and other nutrient catalysts in our food... but doesn't take place when our diets are inadequate.
Methylation repair work is essential for maintaining our body in good health.
Our need for methylation repair work is intensified when free radicals increase in our body. Increasing free radicals result from stress, smoking, taking birth control pills, not exercising, not eating sufficient fruits and vegetables, or are exposed to pollution of any sort.
Whenever free radicals rise, methylation processes can't keep up with the repair work needing to be done — in other words, maintenance of the human body degrades and we begin the cycle of getting old and diseased.
In simplest terms, methylation increases the number of repair crews working inside your body to repair the damage of oxidative and other metabolic processes—repairing what has gone wrong as fast as possible. Methylation helps to process fats, improve neurological function, detoxify the liver, and is involved in nearly every chemical process in the body.
Again, methylation is degraded through smoking, the use of birth control pills and the Standard American Diet which is woefully short in nutrients that facilitate methylation.
The following natural ingredients comprise Methylate Me:
Folic Acid and Vitamin B12

Trimethylglycine (natural sugar beet source)

Vitamin B6 (combination of Pyridoxine HCL and Pyridoxal 5 phosphate)

Choline (combination of Choline bitartrate and phosphatidyl choline)

Taurine

Magnesium (Magnesium Glycinate)

Zinc (Zinc Monomethionate)

Copper (Copper Glycinate)