Monk Fruit Extract Drops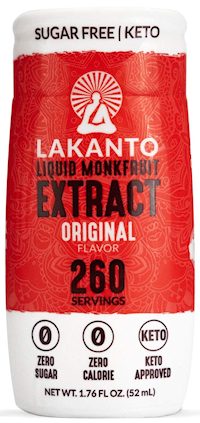 Monk Fruit Extract Drops — 1.76 Fluid Ounces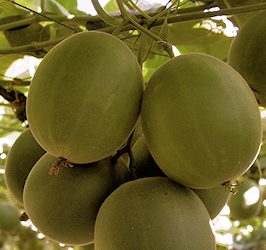 Zero Carbs
Zero Calories
Zero Glycemic
Keto Friendly
Monk fruit, or lo han guo, or longevity fruit, is a small green melon native to southern China and named after the monks who first cultivated it centuries ago, to sweeten their teas. The health benefits of the fruit have been well-known in Traditional Chinese Medicine (TCM) for decades, hence it's alternate name, longevity fruit. Finally, its sweet little secret is making it into the western mainstream.
Monk fruit is 150-250 times sweeter than table sugar, has zero calories or carbs and does not raise blood glucose levels. Most alternative-to-sugar sweeteners (Xylitol, Stevia, etc.) can cause side effects like gas, bloating, or allergic reactions. And some artificial sweeteners like Equal and Splenda are controversial. In the case of monk fruit extract sweeteners, there are no known side effects.
The Food and Drug Administration Trusted Source has deemed monk fruit "generally recognized as safe (GRAS)" for everyone, including pregnant women and children. Even so, because monk fruit is relatively new to the mass market, there are no scientific studies on the effects of long-term use.
Potential Health benefits of Monk Fruit
Please note that these are potential benefits, not yet scientifically agreed upon benefits. Further research and studies are needed:
Safe for diabetes — Monk fruit gets its sweetness from natural compounds called mogrosides. It's generally safe for those with diabetes because it doesn't increase blood sugars.
Promotes weight loss — Monk fruit has no calories, carbs, or fat, so it may be a great option for anyone watching their waistline. You can save substantial calories and carbs by simply substituting monk fruit sweetener for table sugar throughout your day and making treats with Monk Fruit.
Anti-inflammatory properties — According to a 2011 study, monk fruit has been used in traditional chinese medicine for centuries to make hot drinks that relieve sore throats and reduce phlegm. The fruit's mogrosides are said to be anti-inflammatory.
Potential Risks of Monk Fruit
Allergic responses to Monk Fruit are rare. But, there is a risk of allergic reaction with anything. Monk fruit is a member of the Curcurbitaceae family (also known as the gourd family), which includes pumpkin, squash, cucumbers, and melons. Your risk of monk fruit allergy is higher if you're allergic to other gourds. Signs of allergic reaction may include: hives or rash, difficulty breathing, rapid or weak pulse, dizziness, swollen tongue, stomach pain or vomiting, wheezing.
Monk Fruit Extract Drops Ordering Form
Comparative Retail Price: $12.00
Our Price: $9.99
Monk Fruit Extract Drops
Supplement Facts

Serving Size: 3 to 4 drops per 8 ounces of liquid (to taste)
Servings Per Bottle: 260
Ingredient
Amount Per Serving
%DV
Calories
0
0%
Fat
0
0%
Sodium
0
0%
Protein
0
0%
Calcium
0
0%
Vitamin D
0
0%
Iron
0
0%
Potassium
0
0%
Ingredients: Water, Monk Fruit Extract, Natural Citrus Flavors
Videos and Audios about Parasites and Monk Fruit Liquid
We disclaim any claims (if there are any) made in these videos or audios. They are for information, education, enlightenment and entertainment only.