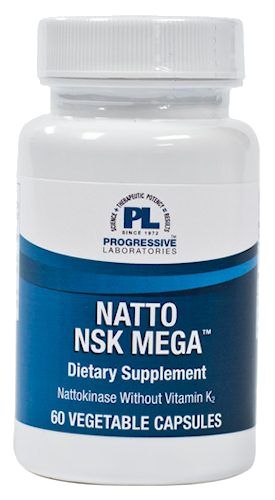 Natto NSK Mega is Very Special!
Nattokinase is a specialized fibrinolytic enzyme. It is special in that it eats up or dissolves insoluble proteins in the blood. Removing such insoluble proteins (clots or plaque) supports healthy, unrestricted circulation. The Japanese food natto (from which nattokinase is extracted) is very rich in vitamin K2, which, although it is an excellent form of vitamin K, is contraindicated with many medications prescribed to prevent blood clots. The nattokinase used in NATTO NSK MEGA™ (Nattokinase NSK-SD™) is produced under a specific patented process that removes ALL the vitamin K, yielding only the purified enzyme. This allows this product to be used without concern by those restricted from Vitamin K.
The origins of this product stem from the tradition and stories behind the fermented Japanese soybean dish nattō. This dish is believed to be one of the main factors behind the Japanese people's generally superior cardiovascular health. In fact, natto, Japan's traditional "vegetable cheese" formed by fermenting soybeans has been revered for its heart and health and energy benefits in Japan for more than 1,000 years. Natto was a traditional food of Samurai warriors to help them recover from injuries that would develop scar tissue. Today, natto is regularly consumed by many Japanese citizens, and it is widely thought to contribute to their renowned heart health and longevity. Japanese people, on average, live longer than any other people on earth.
Scientifically speaking, however, there are only few studies that strongly support the idea that nattokinase is helpful for improving cardiovascular function (many more are needed). That is not to say that promising research doesn't exist; it is simply that most of the studies are small or poorly designed. Here are a few worth studies considering. Also, please see the videos below.
Natto NSK Mega Capsules Ordering Form
Comparative Retail Price: $50.00
Our Price: $44.50
Quantity discounts at 3, 6 or 9 units.
Natto NSK Mega Supplement Facts
Supplement Facts

Serving Size: 1 Capsules
Servings Per Bottle: 60
Ingredient
Amount Per Serving
%DV
Nattokinase NSK-SD® (20,000 FU/gram)
100 mg
*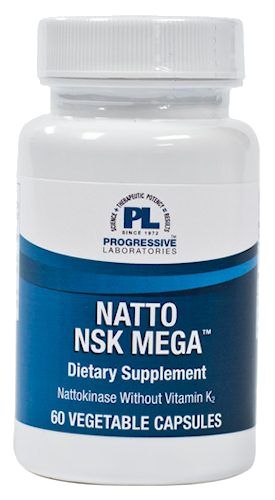 How to Use
Take 1 capsule two times per day.
May be consumed by itself or with any food or liquid.
Videos and Audios about Nattokinase Mega Capsules
We disclaim any claims (if there are any) made in these videos or audios. They are for information, education, enlightenment and entertainment only.