Organic Sulfur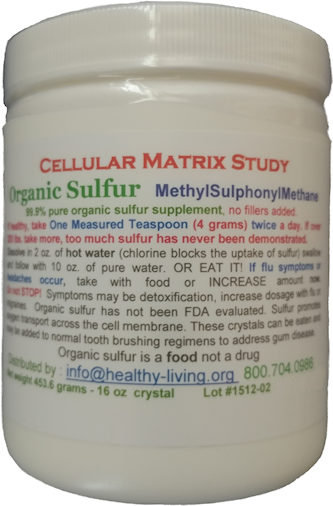 Organic Sulfur is an ultra-pure Methyl Sulphonyl Methane Powder
Organic Sulfor MSM is not a drug. It is nutrition that the body can use to improve its health. Some of the great things that organic sulfur can do in regard to helping improve health are as follows:
Organic Sulfur increases enzyme production within the glands in the body, substantially increasing overall resistance to illness. As people age, their production of enzymes goes down. So, Organic Sulfur is one way to turn the clock back on aging, or to age more slowly.
Organic Sulfur increases flexibility in the tissues within the body. Flexibility is a hallmark of youth. So, this is another way to turn the clock back on aging, or to age more slowly.
Organic sulfur helps reduces muscle inflammation. It also promotes healing in the muscles and helps prevents them from becoming sore. It hastens the recovery and return to normality of muscles. Athletes, in particular, benefit from this as the intake of additional Organic Sulfur dramatically reduces their recovery time.
Studies have shown that Organic Sulfur can help reverse symptoms of osteoporosis, Alzheimer's disease and Parkinson's disease. All of these are symptoms of aging.
Organic Sulfur aids in helping to regenerate healthy skin production and to reduce "wrinkles". It is one of the main ingredients in moisturizing creams and when used internally it magnifies the skin benefits.
Organic Sulfur crystals help the body insulin production. Adequate OS in the diet may reduce the need for insulin injections.
Organic Sulfur improves blood circulation to the brain and thereby helps alleviate chronic headaches.
Organic Sulfur helps the body to manufacture healthy, lung cells and has been shown to help alleviate symptoms of emphysema.
Organic Sulfur helps to remove toxins from the cells. This ability to remove toxic wastes even helps alleviate hangover symptoms.
When water is removed from fresh foods without using heat (heat would damage the delicate food nutrients), the resulting food Powder is much more powerful (gram for gram) than the original food — because it is more concentrated. That is why you'll get more nutrition from one bag of Young Coconut Powder than if you ate dozens of Young Coconuts... and lots less expensive and time consuming.
Young Coconut milk powder provides numerous nutrients, including, protein, fat, minerals, vitamins and oils. Some of the minerals include: Calcium, Iron, Magnesium, Phosphorous, Potassium, Sodium, Zinc, Copper, Manganese, Selenium. Some of the Vitamins include Vitamin C, Vitamin E, Vitamin K, Vitamin B1, Vitamin B3, Folate and Pantothenic Acid.


The Numerous Nutritional and Health Benefits of Young Coconuts Include:
Cholesterol Reduction — the saturated fat in coconuts is the medium chain type which is easy to be broken down and does not contribute to higher cholesterol.
Satiety — the fiber and saturated oils in coconuts contribute to longer periods of satiety, wherein one doesn't feel hungry.
Manganese Benefits — Manganese is important for the body's metabolism, nerve sheaths and for the immune system. Keeping the immune system and nerves are part of the benefits of coconut. One tablespoon of coconut powder supplies about one third of the body's need for manganese.
Potassium and copper benefits — Minerals are essential to cellular structure and function. In addition to manganese, coconuts provide good amounts of potassium and copper. You would have to eat two bananas to equal the amount of potassium in one tablespoon of young coconut powder.
Production of Red Blood Cells — Coconut contains sodium, B-Vitamins and Iron that help in the production of red blood cells.
You Are What You Eat — Which is Why We Recommend Organic Sulfur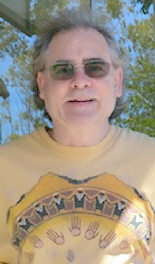 Rishi Ternes, owner of New Earth Super Foods, left the study of medicine in Germany, came to the U.S. and turned his life over to the pursuit of nutrient dense food and seeking to
understand the ability of food to transform health
. He believes that "we are what we eat" and that "food should be our medicine". Rishi owns a Super Food Cafe and Health Transformation Center in Arroyo Grande, California. He continues to search the world for foods that enable to the body to repair itself. As Rishi says, "the nutrients that your body needs are
in the foods you aren't eating
."
Rishi seeks out farmers and food suppliers that are progressive, meaning they are adding minerals and trace minerals to their soils, farming organically and harvesting their foods at the peak of ripeness. Rishi then ensures that those foods are juiced and freeze dried immediately before nutrient loss.
Food is the way of health not vitamins!
Organic Sulfur fits with the "first rule of health" which is that food should be our medicine. Young Coconut Powder also fits with our second rule of health, which is that food engenders health, not vitamins. The United States has among the worst health statistics of all industrialized nations, yet the people of the United States consume more vitamins that the rest of the world combined. That means that you will eventually find, as so many others have already found, that your health will never really start to improve until you give up on vitamins and turn to food. It's time to turn to food!
Vitamins, IE nutrient isolates (often made in a laboratory), may look powerful and awesome on the label, but they don't work as well in the human body as one would hope because they lack the many needed co-factors. Food comes with many needed co-factors nutrients.
The lack of co-factors is the basic problem of vitamin supplements. Without those co-factors, they're NOT as useful to our cells. For instance, Vitamin C is not just ascorbic acid but rather it is: ascorbic acid and numerous co-factors that work in the cells like catalysts or tag teams to make chemical reactions occur. The many co-factors are present in foods, but are not in vitamin isolates. The result, therefore, of taking vitamins is that the body has to scavenge body tissues to obtain the needed co-factors, or wait until they are available or the body may simply discard the nutrients for which co-factors are not available. This is extra work and/or a waste of nutrients, and therefore, vitamin isolates, do far less to improve health than does food.
Organic Sulfur Ordering Form
Comparative Retail Price: $30 per pound.
Our Price: $20 per Pound
Organic Sulfur
Nutrition Facts

Serving Size: 1 Tablespoons (8 grams)
Calories Per 8 Grams:
25
Ingredients: Organic Coconut Powder with 2% Organic Yucca root extract... for flow purposes.
Videos about Young Coconut Powder
We disclaim any claims (if there are any) made in these videos. They are for information, education, enlightenment and entertainment only.