We get old because we fall apart, cell by cell and molecule by molecule. A correct way to look at this process is to think of it as rusting — or oxidizing

Oxidation is a damaging process.

is even more correct. Hence, the current health store buzzword — antioxidant, meaning to stop oxidizing.

The word oxidize means to chemically change a molecule by stealing one or more of its electrons, thus breaking chemical bonds. When a cellular molecule is oxidized, it is changed, mutated, made different than it was before the oxidation event.

The things that oxidize our body's molecules include heavy metals, rancid fats, and numerous other chemical compounds we breathe, eat or drink. We call them free radicals or toxins. Since there are 100,000,000,000,000 cells in our body and thousands of molecules per cell, the process of oxidation takes quite a while to alter a majority of our body's cells significantly.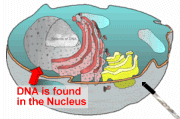 We can think of oxidation in terms of oxidative hits, kind of like bullets being fired at our cells. If a bullet (free radical) strikes a cell wall, that is one kind of damage, if it strikes protoplasm that is another kind, and if reaches the DNA of our cells that is the kind of damage that really matters.

We age when our DNA is oxidized

The reason that damage to DNA is so much worse is that DNA contains the genetic code for the replacement cell that will be built. The DNA code is extremely complex. Slight changes to it render new cells useless.

We all remember from biology the cycle of cell division and then death of the old (parent) cell. We remember how the helical DNA code contains the instructions for this cellular replication. In our old age, cellular division can be likened to copying a

Cellular Replication - VHS style or DVD style

VHS video tape. Each successive copy of a copy is worse than the previous one until eventually, copies are useless.

During our youth, cellular replication is more like copying a DVD because the copies are always perfect. It's only when damage to DNA occurs that we get faulty DNA replications because when a cell's DNA is damaged, then the next replicated cell will contain an exact copy of the damaged DNA and further cell replications will also contain the faulty DNA code. If the DNA is damaged again, then future cell replications will contain an even worse copy and so forth.

Eventually, the cellular copying mechanism itself is damaged, and our copies become VHS copies. At this point our body is old and discomfort, disease and death are near.

By now you certainly understand that the way to stop aging is to stop cell damage to DNA.

Stop aging by stopping DNA oxidation

How do we stop DNA oxidation?

Stopping cellular damage means stopping damage caused by the bad guys that get inside our bodies. Now, if you were very rich and wanted protection from bad guys, you would


hire body guards to stand around you always and protect you from bad guys.

That's exactly what we need to do to stop the bad guys from damaging our cell's DNA — we need to hire body guards, in this case cellular body guards.

Cellular bodyguards are known as anti-oxidants. There are numerous types of antioxidants. Vitamin C and Vitamin E, selenium and pycnogenol are well known antioxidants. Hundreds of different compounds and minerals have been identified as having antioxidant properties. Some are relatively weak bodyguards and some are like monstrous sized, Hercules type bodyguards.

As mentioned, oxidation occurs during oxidative hits or moments of damage... like bullets being fired at our cells. Bodyguards stand in front of our cells and take the bullet (oxidative hit) instead of our cells. So, the secret to not aging is to hire hordes of bodyguards (antioxidants) to stand around and protect our cells.

Antioxidant bodyguards work best in teams of many different synergistic bodyguards, each protecting against a different type of oxidative hit. One special bodyguard even repairs bodyguards that have been damaged by oxidative hits.

Don't expose yourself needlessly to free radicals (oxidizers)

Suppose you were rich and could hire many bodyguards, would you vacation Afghanistan or Somalia. Probably not. It's just too dangerous.

Similarly, you shouldn't expose yourself to more free radicals, environmental poisons, heavy metals, etc. than you have to by putting lots of free radicals into your body. In other words, try to avoid oxidative hits, if possible.

Sources of antioxidants

The best sources of antioxidants are natural food, especially concentrated foods, like juices and concentrated food supplements. Processed foods and overcooked foods contain very few antioxidants.

The greatest concentration and variety of antioxidants that we know of is available in a rice bran supplement known as RiSoTriene. This rice bran supplement is manufactured under a U.S. patent, and involves a totally different way of preserving the rice bran nutrients than every discovered before. It contains over 100 different antioxidants, including the HULK strength antioxidants known as Tocotrienols.

Another source of antioxidants that we recommend is Seven Essentials containing a full daily serving of RiSoTriene plus antioxidants known as phytosterols from vegetable concentrates and a full spectrum of minerals and trace elements.

Bodyguards are used up fairly quickly in their duty of protecting your body from oxidation. Each cell in your body is attacked by free radicals and other oxidizing chemicals 10,000 times a day. Thus, bodyguards, even the monster sized ones are soon overwhelmed.

Secret of Youth:
Don't go more than 3 hours without a resupply of bodyguards

That's why one of the secrets of staying healthy and young is to constantly resupply new antioxidants to your body. The antioxidant protection available by ingesting antioxidants every two to three hours is far greater than what is obtained by a single daily serving of antioxidants.

Keep your nutrient supply lines active and your bodyguards always with you

Final Secret of Youth:
Keep Constant Supply Lines of Nutrients

One thing that bodyguards cannot do is control the situation of insufficient nutrients. When the body has insufficient nutrients to maintain the one hundred trillion cells of a human body, then cells steals nutrients from other cells. This kind of scavenging is in itself an unstoppable form of oxidation — breaking down of the cells of the body. So, along with providing an ample amount of bodyguards to guard your body's cells, you must supply the nutrients the body needs. This means nutrient dense food and it means concentrated food supplements.

And always keep your bodyguards with you. That's the way to live healthy for 100 plus years.