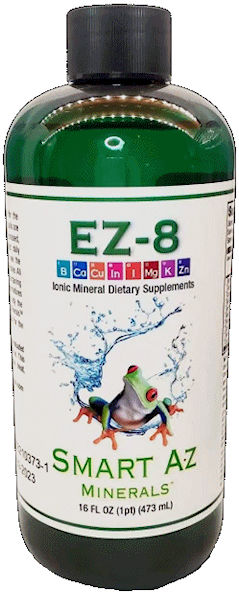 Smart A-Z Minerals — soluble, ionic, virtually instantly-assimilating

minerals

that can quickly raise your cellular "oomph" and vitality.
What Smart A-Z Minerals Are:
Smart A-Z Minerals are ultra-pure, highly assimilable, water solutions of the eight minerals and trace minerals that are under-supplied in most people's bodies. Smart A-Z minerals are prepared and offered as bottles of single minerals or combinations of minerals.
Created from high purity mineral ingots and pure water, utilizing a highly technical, proprietary process, Smart A-Z minerals are offered as water solutions not mineral compounds. That means the minerals are dissolved in water and are in an ionic state. Because of their small angstrom size and ionic state, Smart A-Z Minerals avoid normal digestion and assimilation processes in the stomach and intestines. By avoiding losses from poor digestion or competition with other minerals, Smart A-Z minerals are quickly and 100% welcomed into the bloodstream and cells of the body.
Teaspoon servings are recommended for average-sized people and most situations. The teaspoon amount is easily increased or reduced based on body size, activity, or stress level.
Smart A-Z Minerals can be consumed on an empty or full stomach. Smart A-Z mineral liquids can be swallowed alone, or can be consumed with other foods and liquids. Swishing the Smart A-Z Mineral liquid around in the mouth for a minute or two before swallowing is the absolute best way to take the minerals as this allows the minerals to strengthen the teeth and gums and to enter the bloodstream quickly prior to getting into the stomach.
Why You Should Consume Our Smart A-Z minerals:
The ultimate reason is to be optimally healthy. Minerals are a major key to having long-lasting and superior health. Statistically speaking, Smart A-Z minerals are the minerals and trace minerals North Americans most need. They are highly absorbable and easy to take.
Most People are Deficient in These Eight Minerals
Click on each to learn more.
100 percent of Americans are deficient in Indium
99 percent of Americans are deficient in Boron
98 percent of Americans are deficient in Potassium
96 percent of Americans are deficient in Iodine
67 percent of Americans are deficient in Magnesium
60 percent of Americans are deficient in Calcium
40 percent of Americans are deficient in Zinc
25 percent of Americans are deficient in Copper
The above deficiency statistics are a clarion call for people to make minerals a health priority. Youc health depends upon having the small and simple habit of ensuring optimum mineral levels in your body. In simple point-of-fact, seeking optimum mineral levels should be your prime health goal. Anyone who aspires to optimum health will have to have a strong foundation of minerals.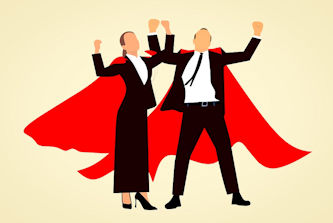 With Smart A-Z Minerals you can surmount the mineral deficiencies that undermine most people's health. It is smart person that makes, hitherto weak things become strong.
By consuming Smart A-Z Minerals, with their far superior assimilation, you are guaranteed to overcome the most common mineral deficiencies of mankind.
Why, Technically, Minerals Are So Important to Life
Generally speaking, minerals and trace minerals have a capability that other elements in nature don't have, namely, their electrons can move to higher transitional orbits. This allows them them to combine with other elements in ways that non-minerals cannot do in order to catalyze reactions at lower energy requirements.
Without minerals, biochemical life COULD NOT EXIST! Optimal cellular function and the total body health that results from trillions of correctly functioning cells DEPEND ON the presence in cellular structures and intra-cellular and extra-cellular fluids of most all the minerals on the periodic table.
Why People Are So Deficient
Because modern farm soils are extremely deficient in minerals, foods derived from those soils (including meat, milk, and eggs) are deficient, too. Human beings, who are at the top of the food chain, unless they supplement or seek mineral-rich food sources from non-commercial farms, will inexorably become mineral deficient. That is why anyone who cares about health must supplement with minerals.
Why Other Supplements May Not Be Enough
Yet, supplementing with an average-quality mineral product or with mineral-rich foods, in general, may not be the full solution to mineral deficiencies. That's because one's digestive abilities may prevent one from assimilating the minerals. For instance, most chelated minerals are digested and assimilated at rates less than 35%, and carbonate-type minerals at less than 10%.
Why Smart A-Z Minerals Can Get Into Cells Better Than Other Mineral Supplements
Smart A-Z Minerals assimilate completely because they're in ionic form and don't depend on a person having good digestion in order for the minerals to assimilate into one's blood, lymph, tissues, and cells.
Smart A-Z Minerals can pass into the bloodstream (even from the mucosal membranes of the mouth) without digestion and without having to go in via mineral access sites in the intestines. This is important because intestinal access sites may get damaged by pathogens or inflammation with the result that mineral assimilation doesn't happen efficiently.
Also, Smart A-Z minerals don't compete for entrance at these access sites. That means zinc and copper will both get into the bloodstream together (unlike what occurs with mineral-rich foods or supplements where zinc and copper compete with each other.
The difference between Smart A-Z Minerals and most other mineral supplements is huge. When consuming other mineral supplements up to 95 percent may be unassimilated.
You Are Dirt!
Minerals are the most important component to your body. You are made of the dust of the earth. That's what God says and science is catching up to the realization that minerals and trace minerals give your tissues their unique functioning and life capability.
During gestation each person takes from their mother's body the minerals needed to grow.
After being born, however, one's mineral levels are never as good as they were at birth.
That's because modern soils are deficient in minerals, which means that grains, vegetables and fruits derived from the soils are deficient and also, meat, milk and eggs derived from animals eating mineral-deficient produce is deficient.
Therefore, you need to add mineral and trace mineral supplements to your diet.
Smart A-Z Minerals allow you to address intelligently your unique deficiencies. If you believe you're deficient in copper only, you can supplement with just copper. Or, if you believe you're deficient in both copper and boron (very common), you can supplement with both our copper and boron liquid mineral supplements.
Or you can supplement with our EZ8 mineral supplement that furnishes your body with the eight most likely-to-be-deficient minerals.
Learn More About Each of our Great Smart A-Z Mineral Products:
Click on each Mineral to learn more about its great benefits, and read Kent's comments as to which Smart A-Z Minerals are (in his estimation) the most important.
Complete List of Smart A-Z Minerals and Ordering Form
Mineral Levels in One's Body Go Down From Birth and Have A Huge Impact on Health: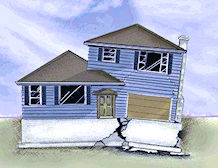 Trying to build anything on a faulty foundation is an exercise in frustration because without a strong and adequate foundation that superstructure will eventually fail and everything built on it will come to ruin.
An important foundation of human health is minerals and trace minerals.
We are made from the "dust of the earth" being comprised in elemental descending order of hydrogen, oxygen, carbon, nitrogen (these atoms make up 99.1 percent of all the atoms in the human body) and a relatively small amount of minerals (less than 0.9 percent of the atoms in the human body). Minerals (including trace minerals), with their capability for transitional electron orbits, give our biological compounds their unique capabilities and functions.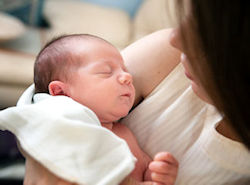 Infants start their lives with all the minerals and trace minerals that their bodies need because during gestation, babies' bodies simply take those minerals from their mothers' body. That's one of the reasons why pregnancy is so hard on mothers and why mothers need to have superb mineral nutrition while growing a child within their womb.
After being born, a child's mineral levels will probably never be again as good as they were at birth, because his or her mineral levels will constantly go down from that point as a result of lack of minerals in modern soils and as a result of the standard American diet that causes minerals to be used up in processing excess sugar and dealing with stress.
Two Factors Destroy the Mineralization of the Human Body
The Standard American Diet Reduces Mineral Levels in the Body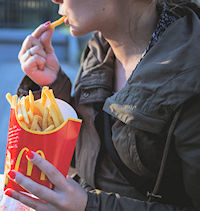 Any food or drink that one eats or drinks will use up already-stored nutrients in the body in order to metabolize the food just eaten.
Metabolize means to extract and put to use the nutrients and fuel from food. If such metabolic effort does not obtain more nutrients than was expended then one's nutrient reserves go down. So, nutrient-empty foods are vacuum foods because, ultimately, they suck nutrients out of the body and health becomes worse in the long run for having eaten them.
The goal of eating is to obtain fuel to energize the body and to increase nutrients or at least to maintain nutrients after the expenditure of nutrients during metabolism. That's why the Standard American Diet is so bad — it reduces nutrition over time, bite by bite, drink by drink, day by day and month by month — until the body's ability to maintain health is gone.
The Standard American Diet consists of processed foods that are essentially stripped of nutrients. These SAD foods mostly carbohydrates, sugars, denatured oils and tasty chemical additives and preservatives that damage the body and reduce nutrient levels, inexorably creating poor health.
Commercial Farm Produce is Deficient in Minerals
Since the 1900s, farming has changed in a big way. Big companies have purchased the majority of small farms and on their mega-farms they push high yield farming techniques that do not focus on soil renewal and nutrient-dense produce, but rather on profits. They routinely fertilize with nitrogen, phosphorus and potassium only (and even so, potassium levels are declining).
Pulling more produce out of the soil with high yield techniques is contrary to the God-given farming principles given in the Bible of renewing soil by allowing it to lie fallow periodically. Little soil renewal runs counter to the health of people, although it enriches big agriculture companies.
The below graph shows that in a past 36 year period (this study was done from 1963 to 1999), macro-minerals in the crops below dropped significantly (even potassium levels dropped, which is amazing since farmers unfailingly add nitrogen, phosphorous and potassium to make their crops look big and healthy).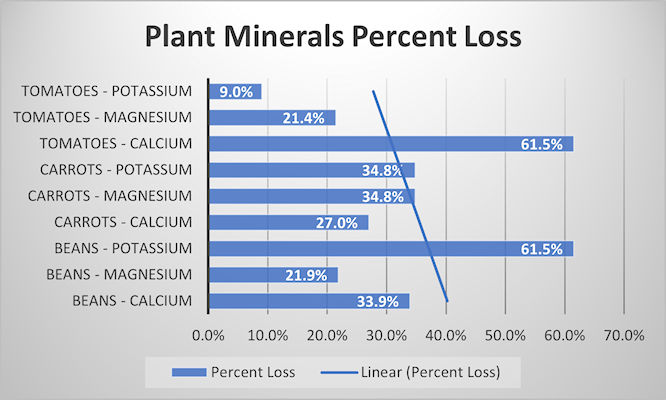 Declining levels of macro-minerals isn't the biggest problem, in our viewpoint, but rather declining trace minerals are the real deficit because of their essentialness to optimum health. According to one government estimate, trace mineral nutrients (elements such as zinc, selenium, iodine, silicon, boron, etc.) have dropped from 40 to 80 percent as compared to levels that were present a century and a half ago.
Only progressive farmers are renewing trace elements.
Please note that general discussions about minerals cannot be applied without precautions to everyone because people have unique circumstances and individual gene defects. Some people have a gene defect, for instance, where they cannot eliminate copper from their bodies. These people would be harmed by taking additional copper. So, always seek the guidance of your wellness professional who knows you well.
Many mineral supplements have great-looking labels, but the supplements themselves don't improve one's health much. Often, the reason is either that those supplements lack important minerals or trace minerals or they assimilate very poorly (see below).
For instance, Indium is very valuable to health, yet there is no detectable Indium mineral in any tested water or food in America. Very few supplements offer it. Indium is both present and perfectly assimilable in Smart A-Z Minerals.
Most chelated forms of minerals offer assimilation rates between 3 and 35 percent. That's because mineral-rich foods and mineral compounds as in most supplements must be digested (broken apart into small sizes and enter the bloodstream through "mineral access" sites in the intestines. Most mineral products are very ineffective at actually entering the bloodstream and simply go on out of the body into the sewage, rather than being assimilated into the cells of the body.
Smart A-Z minerals are in a

highly assimilable

, water solution

form. There

is no Tyndal effect when shining a light through the Smart A-Z mineral solution, proof that the minerals in these liquids are dissolved, rather than being colloidal particles.
Being Ionic and in water solution, Smart A-Z Minerals offer virtually instant and complete assimilation of its minerals to the blood and cells of the human body. It follows that with Smart A-Z Minerals, mineral inadequacies in the body will more rapidly be remedied.
Videos about Smart A-Z Minerals
We disclaim any claims (if there are any) made in these videos or audios. They are for information, education, enlightenment and entertainment only.